I was raised in Slovenia (then Yugoslavia), to witness my homeland disintegrating into presently six entities at the age of 22. Even though Slovenia was little affected by the Yugoslav Wars, it was a major shift in my life: from slow-paced soft communism to free-market capitalism based on a radically different set of assumptions and values. In hindsight, this lived experience has richly informed my long-life inquiry as to the ways in which we as humans build our social, economic, ecological and spiritual spaces of belonging and participation.
An avid traveller ever since I was 16, I have always been interested in the cultural conditioning of my ways of perceiving, thinking and acting: from national to family to generational and organizational cultures. Each of them co-shapes the stories I tell about myself, my place in the world, and the futures that I am able to imagine.
Graduating from the University in Ljubljana (MSc in Crosscultural Communication), I worked for ten years in marketing and public relations. Around the turn of the millennium, my focus shifted from external communications to deeper dialogue. Since 2002, I have been working in the areas of organisational, community and personal development; galvanised by questions that keep fuelling my curiosity:
What fosters aliveness and contribution in family, workplace, community, society?
What becomes possible when people align around their shared hopes and visions?
How to create spaces in which people reconnect across divides – meeting at the levels of deep human longings?
I work with organisations and communities on strategic issues; designing processes in which people hear the whole picture as well as each other – as a basis for co-creating desired futures.
Promoting the power of participatory strategic dialogues, I am an active member of the Slovenian Association of Facilitators - having served two mandates as its president (Chapter Slovenia within the International Association of Facilititators ). I am a Certified Professional Facilitator, Art of Hosting Conversations That Matter national steward, CNVC-certified trainer in nonviolent communication and contemporary rites-of-passage guide trained with the School of Lost Borders.
Living in sLOVEnia, where connection to the land is in our bones, I am also exploring ways to re-claim wholeness (as persons, communities, teams and organisations) inspired by nature's wisdom.
While based in Slovenia, I work internationally.


Some of the approaches used:
Intercultural communication and collaboration
Whole-system thinking
Circle-based dialogues (Circle, Council, Bohmian dialogue)
Embodiment practices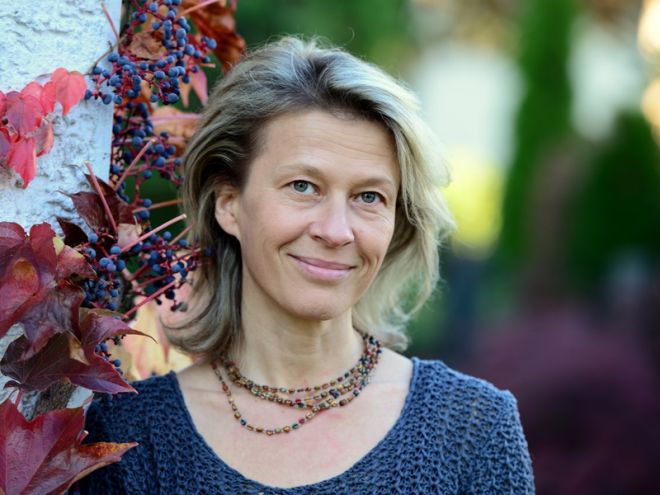 Offerings:
Collaborative change design (process and facilitation)
Large group facilitation (participatory conferences, congresses)
Strategic dialogues across sectors, divides, disciplines
Organisational evolution
Conflict transformation
Mediation
Communication and dialogue workshops
Guidance through transitions
Coollective empathy and grieving ceremonies
Personal visioning retreats
Clients:
Bridge47/Fingo, British Council, Celtra, Center for Nonviolent Communication, CER - Sustainable Business Network, CNVOS, Comtrade, Concorde – Development awareness raising & education, CoPoliMAT, Danfoss, DrogArt, Electrolux, European Commission, EC – DG Grow, Government Office for Development and European Cohesion; Government Office for Nationalities, Fractality Greece, InCo- Innovative Communication, Investigate Europe, IUCN - Internatonal Union for Conservation of Nature, MQ Conference, SIJ – Slovenian Steel Group, Epilog, Erste Group Immorent, EURES, Hypo, International Society for Diversity Management, Knowmads Hanoi, Ljubljana Stock Exchange, Ljubljana City Museum, LQ Zagreb, Ministry of Public Administration, Ministry for Economc Development, Ministry of Environment and Spacial Planning, , Ministrstvo of Infrastructure, Ministry of Foreign Affairs, Peace Institute, National Institute of Public Health, National Museum, Nexus France, Ljubljana Regional Development Agency, Educational Research Institute, Renewable Grid Initiative, Revoz/Renault Group, Sinergise, Slovenian Chamber of Commerce, Slovenian Economic Summit, Slovenian Chamber of agriculture and Forestry, Slovene Philanthropy, United World Colleges Organisation, Umanotera Foundation, University of Ljubljana, US National Endowment for Democracy, World Health Organisation, World of Synergy Confluence, Young Dragons Public Institute, Youth Peace Initiative